This tree is freely inspirated by the dark and dangerous swampy forest of Dagobah planet in Star Wars Episode 5. But the model is enough customizable to build shape very close to Rhizophora genus which can take place in every tropical landscape from earth or other planets.

This bundle is made with 4 items :

- Dagobah mangrove tree HD: High polygons definition and and sophisticated materials for Vue users.
- Dagobah mangrove tree Light: Same as above but with a crown foliage replaced by Billboards.
- Dagobah mangrove tree Export: Same as HD version but with mesh system in triangle manual and 100% bitmap materials.
- Dagobah tree: Special version for Star Wars fan, model very close to the movie specie.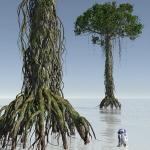 For more details and purchase please go to http://www.cornucopia3d.com/purchase.php?item_id=14106
Here are some renders using some of the items of the bundle: